Personal Perspectives: Five Artists' Sense of Place, Companion Exhibition at the Smithy
When home is not the same as a place of origin, what does the outsider see in their new environment? Who determines places of value and decides to protect sacred traditions, folklore, meeting places, and spiritual pursuits? Who decides which sacred traditions to protect? How does the designation of sacred come about? The hierarchy of cultural significance is rarely determined by artists but it is often interpreted or conserved and codified by them in ways that meaningfully contribute to understanding a culture's sacred places and alternative perspectives.
In collaboration with the Glimmerglass Film Days' third season, "Sacred Places", five artists have been brought together with far reaching interests in "place"—their places of origin, new homes, places they visit, or places of the imagination—all living in the Central New York region, who present their perceptions of "place" in their works as relates to humanity, nature, religion, and creative expression as it happens in imaginary places and places of significance.
This grouping specifically celebrates the artists' sense of place, the significance they find in symbols, and how they repurpose that in narratives and structure of their work and personal lives.
Glimmerglass Film Days Curators: Megan A. Irving; with Sydney L. Waller
Special thanks to the Cooperstown Art Association and Smithy for helping make this exhibition possible.
The Artists
Amelia Bauer's work is a series of discrete investigations into our cultural conceptions of the natural world. She examines her surroundings -- particularly the deserts of Northern New Mexico and the forests of Central New York -- through a lens of history and mythology. Aesthetic traditions are repositioned to create spaces that exist somewhere between our fears of the uncultivated wild and our romanticism of the "virgin" landscape. In this way Bauer explores the American experience of the frontier -- the transitional landscapes at the boundaries of civilization
Bauer's interventions, both photographic and sculptural, are representative of a distinctly American endeavor to bend nature to will yet also address the psychological and historical motivation underlying such efforts. Whether through applying decorative themes and gestures to materials found outdoors or interfacing directly with the environment itself, the outcome is a nuanced marriage of the inherently untamable and the age-old human desire for control.
Amelia Bauer earned her BFA from The Cooper Union and is a Presidential Scholar in the Arts. She has exhibited nationally and internationally, at galleries including RBContemporary in Milan, IT, De Soto Gallery and Aran Cravey Gallery in Los Angeles, Phillips de Pury Shop and Capricious in New York, Flanders Gallery in Raleigh, NC, and Helen Pitt Gallery in Vancouver, BC. Her work has been exhibited at institutions including The Walker Art Center, CoCA Seattle, CCA Santa Fe, The Museum of New Mexico, and the National Gallery of Art at the Smithsonian Institution. Her work is in the permanent collections of The Albuquerque Museum and SFMOMA. The Paris Opera is currently using images from her series Burned Over as their institutional identity for the 2015/16 season.
Wijnanda Deroo does not limit herself to the known -- in fact, she seems to search out the unknown and unfamiliar. Whether traveling within her native Holland or her adopted home, the United States, or exploring countries much farther afield -- Indonesia, China, Russia, Mexico -- Deroo does not shy away from taking this travel a step deeper. Visiting the interiors of public buildings, homes, factories, hotels, she seems to be searching for the heart of the matter, the belly of the beast. As Ken Johnson of the New York Times notes, Deroo's photographs have a curious searching quality... as though she were a detective.
But while she is clearly adept at navigating human society, unfailingly managing to gain access to the innermost chambers of people's personal and work spaces, and while she is clearly fascinated by and respectful of the people to whom these interiors belong, Deroo does not include them in her photographs. Rather -- while she seems to be seeking an answer within the spaces these people have created, decorated, inhabited -- she insists on looking beyond or even through the people themselves.
Indeed, the absence of human presence in Deroo's photographs, points to a secret, to something hidden beyond what is visible, according to Rudy Koushbroek (Perspectief #30).
While Deroo's photographs can be of fairly quotidian spaces -- waiting rooms, courtyards, a kitchen -- the interplay she produces between her chosen subject matter and color, light and composition transforms each space into a thing of startling uniqueness.
Or, in the words of Abram de Swaan, these beautiful photographs become beautiful in another way, or something other than beautiful, something that is difficult to put into words, but that invites us to look again and again.
Born in The Netherlands, Ms DeRoo earned a Liberal Arts Degree from the Academy of Fine Arts, in Arnheim, NE, where she continued as a professor at the Academy as well as at The Academy of Fine Arts in Breda, NE. she currently lives and works in Amsterdam (Neth.) and New York.
Roy Kortick is inspired by the symbols of divinity and power from cultures and art throughout history. He sources imagery, designs and techniques from the resplendent and authoritative monuments to religion of pre-Renaissance, Assyrian, Incan, Egyptian, Greek, Roman, Inuit, and Buddhist artisans. Roy's connection to the idea that artists have historically worked in a hive minded manner in service to a ruler or dominate religion enables him to transpose these earlier symbols and stories of deities into contemporary context with new alliances enabling his own more personal storytelling. There being no state, church, empire prescribed style and story, Roy is weaving his own world of influences from the fragments that have survived from past empires. He sees the residual influences of the guardians, the totem animals, decoration from religious monuments and other places of cultural significance in the contemporary world. Roy's work combines symbols from the mythologies of many cultures with his own dogs, cartoon animals, toys, patterning and doodles to the point where his art has influenced his own life and has pushed him to pursue a more agrarian lifestyle closer to his work. Roy works primarily in glazed ceramic, tiles which are hand made, rolled, or stamped and combined into hand made egg tempera painted panels.
Kortick was born in Providence, Rhode Island, and received a B.A. in Visual Arts and Literature from Bennington College. Kortick's work has been shown in numerous solo exhibitions worldwide, and is currently represented by the Thordén Wetterling Gallery in Gothenburg, Sweden. His work has been written about in the New York Times and Newsday among other publications. His awards include fellowships at The MacDowell Colony, The Millay Colony for the Arts and Vermont Studio Center. Formerly from Brooklyn, Kortick lives in Middlefield, NY where he operates a small permaculture farm that heavily influences his work.
Katharine Kreisher
Artist Statement:
A gazebo over bubbling sulfury waters in Sharon Springs NY smelled of the underworld. A dark hole opened to the source. I saw it as a place of ritual, cleansing, healing and transformation, a place suited for my itinerant journeys into unconscious narratives, reworkings of memories and myths. I played woman. Fans played a moon at midday and emerged as wing tips. -KK
Curator Rachel Seligman of the Tang Museum, Skidmore College, Saratoga Springs New Yorkwrote: "Employing techniques from pinhole cameras to digital processes in her work, Katharine interrogates her own identity and sense of self in the world, and explores how these things can shift, shatter and reassemble over a lifetime."
Kreisher earned her M.F.A. and MA degrees at The University at Albany, State University of New York and a B.S. at Skidmore College, Saratoga Springs, NY. A professor at Hartwick College, she teaches documentary photography, alternative processes and photo-related printmaking methods. Kreisher has participated in numerous exhibitions including "Hair" curated by Alison Ferris for the John Michael Kohler Arts Center, Sheboygan, WI. Her work is in numerous private and public collections including The Center for Photography, Woodstock NY and Albany Institute of History and Art, among others. Ms Kreisher lives in Schenevus, NY.
Alex O'Neal's paintings and drawings present shrines or personal monuments that refer to places, phrases, and objects that have inspired and informed him. Wreaths, words made of flowers, shields, sashes, pine cones, migraine auras, peppermint donuts, and vintage phones, among other things, are in cluttered arrangements. Commemorations of "Superstar of the Delta", "Sellout", and "Marion Jail Fan Club" are, as banners state, "At Rest", "Beloved", and "In Loving Memory".
Within these decorative showcases is Ice Cream Royalty: totemic, bling-draped, sometimes veiled, multi-scoop cones. Personages of sorts, Ice Cream Royalty are playful metaphors for both the personal glory that artists may aspire and the sensorial exaggerations of the migraine experience. O'Neal's work is influenced by African-American self-taught art, European art brut, and 19th Century American mourning art.
O'Neal grew up in Starkville, Mississippi. He earned his BFA at the Rhode Island School of Design, Providence RI and an MFA from the School of the Art Institute of Chicago. In addition to frequent solo shows at Linda Warren Projects, Chicago Ill., he has exhibited work at the Center d'Art des Pénitents Noirs, Aubagne, France; the Mississippi Museum of Art, Jackson MS; at the Governor's Island Art Fair, Exit Art, and The Drawing Center, in New York and at the Herbert Johnson Museum, Cornell University, Ithaca, NY. He lives and works in Cooperstown.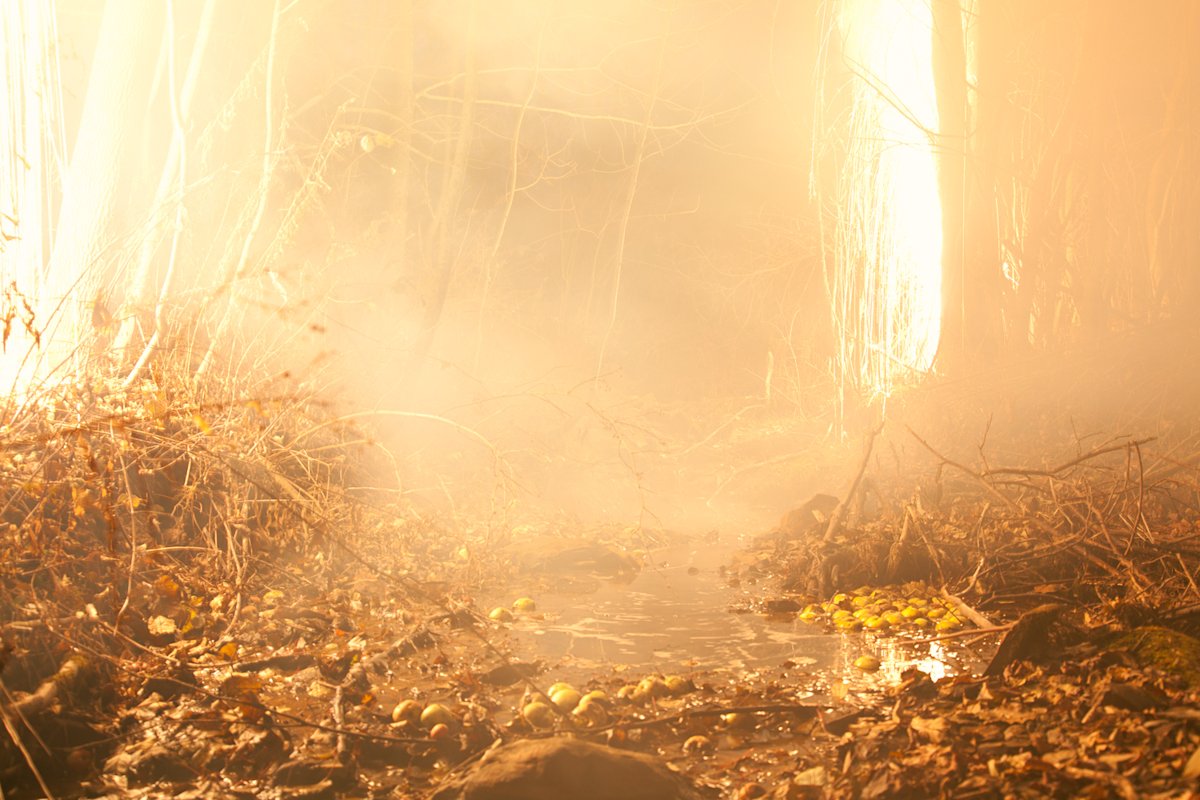 Amelia Bauer, Burned Over #4
Wijnanda Deroo, Adler Hotel Room, Sharon Springs
Roy Kortick, Horses with Elephant Flower
Katharine Kreisher, Self-Portrait at Sharon Springs
Alex O'Neal, Shrine for Ice Cream Royalty # 2
Personal Perspectives, October 31 - November 15 @The Smithy, 55 Pioneer Street, Cooperstown, NY
Gallery Open
Saturdays and Sundays, 11AM - 4PM
Also Open by Appointment Contact: Janet Erway, Cooperstown Art Association, (607) 547-9777
PREVIEW Informal Artist 's Talk, Sunday, November 1, 5-7 PM (Free and open to the public)
GLIMMERGLASS FILM DAYS OPENING NIGHT PARTY
Friday, November 6, 7:30—8:45PM (ticket required, local food, cash bar, includes one drink)
CLOSING Informal Artist 's Talk, Sunday, November 15, 5-7 PM (Free and open to the public)